First of all, what the heck is vitamin P?  First discovered around 1936, the term is hardly used anymore – except maybe euphemistically for Prozac (fluoxetine) – which you definitely don't need, unless you like playing Russian roulette with your health.  Prozac is widely regarded as one of the most dangerous drugs on the market. More about that some other time, perhaps.
But, real Vitamin P is better known today as a plant classification called flavonoids or bioflavonoids.
[Because of my interest in natural health, I subscribe to a number of health-related newsletters.  One of them (and I recommend this newsletter to anyone interested in sensible health and nutrition) recently reminded me of a subject I have already written about on a number of occasions. Namely, the importance of controlling inflammation, actions one can take to do so, and the nutrients that can assist with this problem. The newsletter I'm referencing here is called Health Alert, by Dr. Bruce West. Much of what follows in this posting comes from that source.  If you are interested in subscribing, their number is 831-372-2103.  I receive no financial benefit by recommending them.  It's just good information.]
Nevertheless, here's why real vitamin P is important to your health, and yes, even more specifically – to your dental health: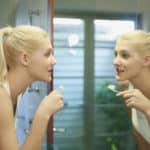 The cells that line your blood vessels are truly amazing in terms of all the functions they provide.  Their end-result have a great deal to do with how you heal.  But they can't do their job without the adequate nutrition that they need.  And the prime nutrient required by these cells is vitamin P.  Originally, vitamin P was named for an extract of paprika.  Today, we know it better as bioflavonoids.
But if you are deficient in vitamin P, you are likely suffering from sub-clinical scurvy.
At one time, scurvy was considered deadly.  Today, it is looked upon as an old disease that has been pretty much eradicated.  But the less deadly version – sub-clinical scurvy – can be found in much of the American population.  It's even possible you may have it.
And while you probably won't die quickly from scurvy as people did centuries ago, your odds of dying from damage to your blood vessels and the resulting strokes and/or heart attacks are significantly increased.  If you notice your toothbrush looks a little pink when you brush, or if you have outright bleeding gums, or possibly blood stains on your skin as a result of leaking blood (Schamberg disease), or you have been diagnosed with coronary artery disease, blood clots, plaque, stroke, heart attack, deep vein thrombosis, peripheral artery disease, and most other circulatory problems – you are suffering from sub-clinical scurvy and you need vitamin P.
Vitamin P feeds the lining cells of your blood vessels – called endothelial cells – and can restore your health after they have been suffering from a vitamin P deficiency.  That makes vitamin P a natural anti-stroke, anti-clot, and anti-heart attack nutrient.  It will help regenerate your endothelial cells to heal your blood vessels properly. It will even help to keep your blood flowing better (by making them less stick and sludgy) without the many side effects of poisonous blood thinners.
As a dentist, I know that vitamin P is also helpful in your fight against gum disease and tooth loss.  More teeth are lost (worldwide) due to periodontal disease (bone loss around the teeth) than to any other factor.  Vitamin P deficiency has a lot to do with this.  But it doesn't end there. Because of its direct effects on collagen, vitamin P can also help you with ulcerative colitis, frostbite, arthritis, varicose veins, hemorrhoids, and more.  It is even protective against radiation damage.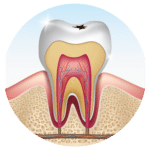 But, by far, its main benefit is to the linings of your blood vessels.  And when it comes to your gums that's crucial.
All kinds of products claim to be able to heal your blood vessels.  Frankly, most of them don't work.  If you truly want to heal your blood vessels, then the most effective source of vitamin P, by far, is the juice of deep green buckwheat leaves harvested at the time of their peak nutritional content.  Possibly, the most powerful bioflavonoid in buckwheat juice is called rutin.  Now, most of us aren't going to start an organic garden to grow buckwheat — that we then harvest at the optimal time — and then make juice from the leaves.  And, fortunately, we don't have to.
One company – Standard Process – does that all for us.  They make the supplement Cyruta-Plus in a tablet that contains all the life force, nutrients, and bioflavonoids of the juice itself.  If you have gum problems, or any of the other problems listed above, 2-4 tablets of Cyruta-Plus 3x daily, would be a good place to start.  Give it one to two months to help repair the damage already caused by what has probably been a long-term deficiency.
If you are not easily convinced and need additional proof (other than observing the results for yourself), you can ask your doctor to have your CRP (C-reactive protein) level checked.  Most people with blood vessel inflammation will have an elevated CRP in their blood.  If this is you, this is an inflammation marker, and your chance of having a heart attack or stroke becomes significantly higher.
You might be tempted to try one of the advertised "super-potent, artery scrubbing" anti-oxidants which are advertised, like reservatrol or ascorbic acid.  Go ahead and try it.  Then have your doctor order a new CRP blood test.  After that treatment fails, try Cyruta-Plus (9 – 12 daily for 30 days) and get one more blood test.  See what happens.  Chances are you will be both shocked, and happy.
Not only will you have helped your gums and teeth, but you will have lowered your risk of heart attack and stroke, you will have helped your joints by improving arthritis, your gut will enjoy better digestion, your skin will thank you, as will your legs.  Plus, the potential for living longer is not a bad result either.