Because tooth-loss so often creates long-lasting and generally negative effects for personal health and, not infrequently, appearance – the entire array of tooth replacement options has long been an important subject in the dental field.  Dentists not infrequently discuss which options are best for their patients, given different circumstances.  And if there is any debate in the profession at all, you can be sure the public will also question which options make the most sense for them.
The truth is there is no one right answer.  Each person's circumstances differ – whether the reasons are anatomic, functional, emotional, or financial.
But the question is still an important one to ask, because patients face new realities when they lose even one tooth.  These changes include (but are not limited to):
And, then there are the secondary effects:
Poor health resulting from a changing diet
Compromised appearance
Self-consciousness/embarrassment
An inability to wear dentures
Financial challenges created by the need to address these problems
It is this last point that I want to touch upon here, because I have observed a good deal of confusion surrounding dental implants.  As a dentist, I am obligated to review all options with an individual when discussing their tooth replacement options – regardless of affordability.  I can't, and don't, pre-judge anyone financially when discussing their choices.
Commonly, though, when I raise the subject of dental implants, I get an immediate reaction along the lines: "Oh, forget it. I could never afford that.  How about a bridge?"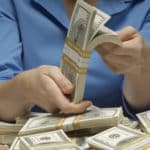 Now, I'm not going to try to convince you that implants are cheap. Restore a full mouth with dental implants and it is likely to be costly.  Nevertheless, cheap is relative.  For some of my patients, even a small filling can be perceived as expensive.  For my wealthy patients, they might be prepared to spend any price for what they perceive will serve them best.  Lucky them.  Right?
What I hope to do here, however, is to show you when an implant may make the most sense for a person. And — at least, when when it comes to replacing a single tooth — a dental implant may just be the way to go.
But first, permit me to remind you again – there is no one right answer for everybody.  Your choices may be very different depending upon whether you are 25 or 85 years old, for example.
I'm sure you can fill-in still other reasons that affect your decision-making process.  But for now, let's consider the following scenario:
A patient loses one tooth.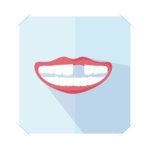 For the sake of argument, we'll call it a lower right first molar.   Suddenly, the patient realizes this is annoying.  Their bite is changing; their gums are sore.  They feel the need to do something.  Now.
Here are a few options. I'm just going to list the main ones, but there are sub-sets to some of these:
Do nothing anyway.
A removable denture.
A non-removable bridge,
A dental implant.
For the purposes of this discussion, the patient has already decided that doing nothing isn't working for them.
So, the next option is a removable denture.  I usually get "the face" on this one.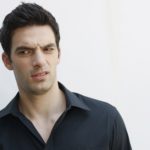 And with good reason.  Food gets caught around partial dentures every time you eat.  You will have to remove the appliance after EVERY meal and clean it separately from your own teeth.  Certain foods will also cause it to dislodge as you eat, allowing some of the food to get caught between the denture and your gums.  The cost – depending upon what kind of partial you have made – will typically range between $750 and $1,500.† The recommended replacement time: every 5 to 7 years.  The reality – people replace them roughly every 15 years.  Sometimes more.  The longer they put off the replacement though, the more issues they may face with the replacement.
Bottom line:  Removable dentures are potentially uncomfortable.  Average lifetime replacement cost if you are 25 years old, (based on an average life expectancy of about 79 years, and an average 10-year replacement rate – not adjusting for inflation) is going to be nearly $7,000.
Next, we'll take up considering a "bridge."  It's called a bridge because it spans a gap (like a bridge spans a body of water) with a fake tooth, or teeth, in between the ones that are still there.  The trouble is that you must shave down the supporting teeth to little stubs so that the result will look natural and be strong enough to take the force of daily chewing.  For the most part, bridges look, and can often feel like, your natural teeth; but you do have to floss under the fake tooth after every meal.  Food will get caught under there, whether you perceive it or not.  If you don't clean it regularly, the life expectancy of your bridge will be shorter.
Now, the cost on this option can really be widely variable, because some teeth need to have fillings replaced before they can be used as supports for the bridge.  In other cases, the teeth may end up with root canals if the process of shaving them down results in lingering sensitivity.  This doesn't always happen, but it is a risk.  If the tooth needs that additional treatment it will cost you more.
The average cost to replace a single tooth with a bridge is about $3,500.  Again, that can be a little more, or less, depending upon what part of the country – or even what part of a city, you live in.
If, on the other hand, you also need to place or replace fillings on the teeth being used as supports, and you need to do root canals as well, it could be as much as $7,000.
Roughly, double.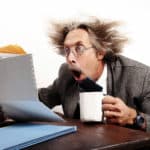 The average lifetime replacement cost with the same parameters given above (25 years old with an average life expectancy of 79 years and a 10-year average replacement rate) is going to be: $31,500.  And that assumes that the underlying teeth will be strong enough to survive that many replacements.
That brings us to dental implants.
Here is the breakdown:  The average implant cost in many metropolitan areas is around $1,800 – $2,200.  If you end up needing a bone graft before the implant can be placed, though, add another $550.  (Basically, a graft is adding bone to your jaw when you don't have enough for the implant.) So far, these costs are just for the implant.  It doesn't include the cost of the crown.  Add about another $2,100 for the parts needed to make up what supports the crown above the gumline, and the crown itself.  If your tooth is short, and there isn't enough tooth height to which your crown can be easily cemented, you might need something called a UCLA abutment — it lets your dentist screw down the crown instead of cementing it.  That could cost you more.  How much depends upon the lab your dentist uses, but $500 more wouldn't be unusual.
On the low end, one implant may cost $3,900.  On the high end, let's round up to $4,900.
So, what about the average lifetime cost?
$4,400.
That's less than either partial dentures or bridges!
Why?
Because, unless you bite into a rock, grind your teeth uncontrollably, or have some serious illness that causes you to lose bone around the implant – any of which can happen to you with the other options as well – you will probably have your implant for life.  Still, no one can guarantee this because, sometimes, plain ol' dumb luck will factor into any equation.
But, you can't get a cavity on an implant.  On the other hand, you still can get a cavity on the teeth that support your partial denture, or bridge (and crowns, for that matter).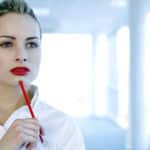 So, do the math.  Look at your circumstances, and decide what is right for you.  But when your dentist starts talking to you about dental implants, hear them out.  It just might be more cost effective than you realize.
† [Note: The prices mentioned here are just averages in US Dollars at the time of this writing.  Actual costs could be more, or less, depending upon where you live.]